---
ORB History
The Orlando Rock Band was born on the pages of the Orlando Sentinel in 1991, in Column World, fathered by Bob Morris. His idea: "We need a cool rock band for the city of Orlando." He said it, Layla did it, and the Orlando Rock Band was born.
Layla, the leader, is a rocker in soul and spirit, who finds her roots in the blues via Robert Johnson and many of the great blues artisits.
Her past acquaintances are almost a who's who in the kingdom of rock and roll - Timothy Leary, Abbie Hoffman, Big Brother and the Holding Company, Richie Havens, Country Joe and the Fish, Allen Ginsburg, The Grateful Dead, Steve Miller, Tom Petty and the Heartbreakers, Bernie Leadon of the Eagles, Chet Helms, and the Family Dog.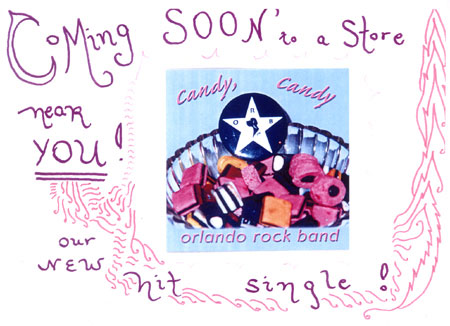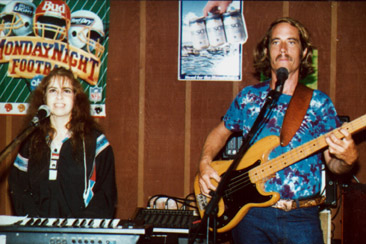 Layla on keys, Steve on bass at Betty's Laughing Horse, 1994
Listen to our music!
To the FBI: Love From Leonard (7.8MB)
to download song right click above and choose "Save Target As.."
Copyright Library of Congress 1997
Registered BMI, 1998
Layla Bennett Buck
Available on cassette or CD email Layla at dogstar@layla.org

ORB FAN CLUB
Join the ORB Fan Club and receive informative emails?
For information
Contact dogstar@layla.org
Orlando Rock Band
P.O. Box 312
Oak Hill, FL 32759
CDs, t-shirts, hats & stickers are also available.

FAN Stuff
It is our great pleasure to announce that Dog Star Productions is now making our CD's and band merchandise available to you at these convenient Central Florida locations:

In Orlando:
Downtown on Orange Avenue
Cool World
112 N. Orange Ave. [407]648-0258
CD's and band stickers
At Thornton Park
Urban Think Book Store
625 East Central Blvd [407]650-8004
CD's and stickers
In Daytona Beach
Total Entertainment
501 W. International Speedway (386)254-8727
CD's and band stickers
In New Smyrna Beach
Drums and More Music Store
1437 South Dixie Freeway (386)427-5570
T-shirts, CD's, and stickers
and at the
Shambhala Wellness Center
(386)547-3906 www.shambhalalife.com
CD's and band stickers
Bonnie says, "Enlighten up!"
In Oak Hill
Kelly's Bait and Tackle Shop
123 N. US Highway 1 (386)345-0990
T-shirts, band hats, CD's, and stickers
Also in Orlando,
pick up your band stickers from Ray at
Rock and Roll Heaven
1814 No. Orange Ave. (407)896-1952

Remember our motto at Dog Star Productions: WOOF!
Leonard Peltier
We have always been an advocate for Native American Leonard Peltier.
Here are some web sites that share his story.
Read them and weep....
Columnist Charlie Reese interviews Dennis Banks
about Leonard Peltier and Wounded Knee.

Available on cassette - email Layla at dogstar@layla.org

Peace and love y'all
Layla
God Bless
Free Tibet

Copyright © 2003 by LAYLA
2002 JC Duncan EnterprisesDesign & Hosting by Networking Magic